A member of the
Georgia Safari Club
and its national Veterans Committee met with Safe America this week and told how more can be done to help get veterans to health care.
Dick Caillouet,
Vice President of the Georgia Safari Club International, noted that traumatic brain injuries (TBI) and
cancer are prompting more medical care visits. He added that some veterans are needing to be flown to Houston at MD Anderson medical care center. Mr. Caillouet, who was an Air Force 'combat flyer' in Europe during the Cold War, suggested it would be good to have more air flights and was pleased that Safe America mulled over more transportation via VET Tran. Mr. Caillouet also anticipated more flights to the Atlanta area for veterans from smaller towns (who can't ride for hours in a car or ambulance).
Another factor that was discussed is the high number of female veterans. It was noted that there are approximately 30-40% of veterans in part of Georgia who are women who need transportation because they're disabled. "Thanks with Knights of Columbus volunteers, we'll seek to do more and help female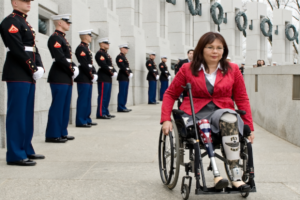 veterans with transportation from our ambulances or cars,' Pagano said. "We salute Mr. Caillouet for the great work Safari Club is doing to help veterans."
Further conversations will be considered in 2023 through the 'VET Tran' program. And, Pagano noted that Safe America will also consider efforts to engage private pilots and airlines to fly veterans to major medical centers. Pagano noted there will be more meetings in coming months to involve other companies including airlines. He also praised retired Wellstar Atlanta Medical Center Chief Medical Officer Dr. Albert Barrocas (who helped launch the 'Home Front' program in Atlanta at the Atlanta Medical Center in 2016. Further discussions with DAV, SCI and other veterans' organizations will consider what can be done 'more' to save lives. It was also noted that PTSD and suicide need to be dealt with, also.