A Navy veteran who was in the Vietnam War called Safe America this week – needing a ride to medical care. Dan Carfang  (in photo on right), who's a Knights of Columbus, offered a 'free' ride – and drove over 100 miles to get Navy Veteran Wendell Allen (in photo on left) to medical care. Mr. Allen – who was on a naval air carrier near Vietnam – had PTSD recently. And, didn't have a car where he was in a recovery area. The goal: call Safe America's VET Tran program.
"We were honoring to help Mr. Allen – and get him to physicians," noted Safe America Chairman & CEO Len Pagano. "Dan Carfang offered a ride and enjoyed being with Wendell – and then offered more support.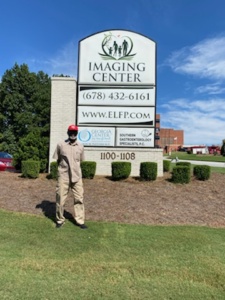 This is a good example of how Knights of Columbus in Georgia are heroic."
Pagano notes that a meeting on September 24 – with State Deputy Jim Clifford – will look to expand more Knights as 'VET Tran volunteers.' "We've been pleased to see support from the Veterans Administration – in fact, that's how people are hearing to call us," Pagano said. "We're getting more support from other military non-profits, also – and thanks to Georgia Knights of Columbus, we'll keep doing MORE good."
Police have also offered to be VET Tran drivers. And, Pagano adds that they will be re-invited to join. "We'll be reaching out more across Georgia – and also having first responders 'excel with veterans. The ultimate good is to honor veterans – and it is an admiration to see how Knights of Columbus are achieving dozens of volunteers to drive hundreds of miles a month."
For more information of VET Tran – for rides or offering to be a volunteer –  call (770)-509-7958.