Thanks to Knights of Columbus in Athens, GA who are starting a new 'model' to help veterans with our VET Tran programs. Joseph Barr has offered to drive weekly our HUMANS Care ambulance and bring disabled veterans to medical care. The ambulance – donated by AMR – was refurbished by Tires Plus in Marietta. Now, more Knights in Clarke and Oconee Counties will help – either with the ambulance or in their own cars (for those veterans not in wheelchairs nor disabled).
"I'm touched how Arnie Terrell – the District 10 Deputy – is encouraging others to do," noted CEO Len Pagano. "We'll be talking more to Knights in Lawrenceville, Snellville and Winder – seeking to involve them like the Knights in Athens," Pagano noted.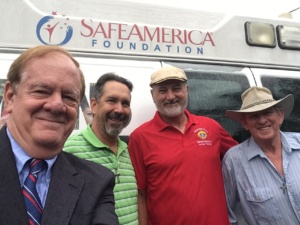 More good in Atlanta, also, thanks to State Deputy Jim Clifford. "We're proud of Jim's commitment and we'll honor his leadership on Thursday, September 1 at our 'Safety Summit' in Atlanta," Pagano said. "We hope to have over a dozen Knights at that event – from Transfiguration, St. Joseph's, St. Ann's and St. Brigid's parishes – plus others around Metro Atlanta. Overall, we'll make Knights the great leaders to help make lives safer and to lead more solutions on other issues," Pagano observed.  
Len photographed Knights of Columbus John Johnson, Arnie Terrell and Al Johnson
and thanked them for leading the new 'VET Tran' program in Athens.