Knights of Columbus have confirmed to help lead VET Tran – and grow volunteers who can help transport military to medical care. Dan Carfang, an Atlanta area Knight of Columbus, has accepted a role as Chairman of Volunteer "Knights" and hopes to involve 25 Knights this summer to help disabled veterans.
"We're ecstatic to have Dan be a volunteer leader," noted CEO Len Pagano. Together with Dan, we'll involve Knights around Metro Atlanta and make this a 'pilot project' that we can in coming years involve hundreds of other Knights nationwide."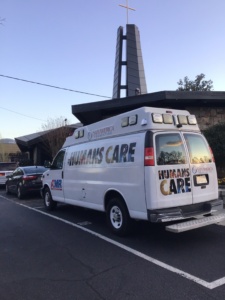 Mr. Carfang and Len Pagano will seek to hold meetings bi-monthly and determine how to engage more younger men. To become a volunteer, you can call (770)-973-SAFE. Knights and other volunteers can seek to drive 1-2 veterans monthly. And, will be able to use their own car or use a Safe  America ambulance (donated by AMR). Watch for more updates on VETV.US on VET Tran this spring and summer.